Opened in 2006, the Musée du quai Branly houses a collection with over 300,000 objects of indigenous art from Africa, Asia, America and Oceania.
The exhibitions and the Quai Branly-Jacques Chirac museum complex are equally surprising. The buildings are made of glass and covered by trees and plants, giving them a peculiar aspect. 
The Collection
The museum's collection, brought together partly thanks to nineteenth-century explorers, includes elements from Papua New Guinea for the veneration of ancestors, stone sculptures from Sumatra, musical instruments, furniture, wooden objects, costumes, and jewels, among many other items.
It's very easy to tour the museum's several exhibitions. The various halls are marked with arrows that indicate the correct way of visiting the center, guiding visitors through various cultures and destinations thanks to fantastic works of art. 
Highly Recommended
We highly recommend the Musée du quai Branly. Its collection is truly remarkable and visiting its complex is very agreeable and not at all tiresome like other larger museums. The quai Branly will charm all its visitors thanks to its varied and curious collection.
We believe the Quai Branly is one of the best museums in Paris.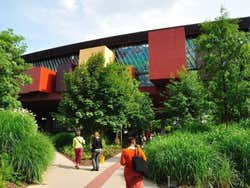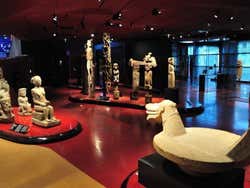 Schedule
Tuesday to Sunday: from 10:30 am to 7 pm (Thursday until 10 pm)
Monday: closed
Transport
Metro: Alma-Marceau, line 9.
RER: Pont de l´Alma, line C.
Bus: lines 42, 63, 69, 72, 80, 82, 87 and 92.