Opened in 1961, the Musée d'Art Moderne de la Ville de Paris (City of Paris' Museum of Modern Art) features several artistic movements of the twentieth century, focusing especially on the Cubism and Fauvism movements.
It also includes numerous works from the three groups of artists from the School of Paris.
The museum is situated in the east wing of the Tokyo Palace, a striking building constructed for the Exposition Universelle of 1937.
Exhibitions 
Divided into various halls, visitors will be able to see several artistic movements including Cubism, Fauvism, Realism, Abstract and Contemporary Art. The museum also includes a section on decorative art and furniture from the 1920s and 1930s. In addition, several halls contain temporary contemporary exhibitions, both French and international.
The museum's collections include over 8,000 works of art made up of renowned artists such as Picasso, Henri Matisse, Raoul Dufy, Georges Braque, Amedeo Modigliani, André Derain and Alberto Giacometti.
One of the most impressive paintings is found in the Dufy Hall. Here there is an enormous painting covering the walls of the room that narrates the history of electricity with beautiful bright colors.
A Famous Robbery
In 2010, the Musée d'Art Moderne became renowned worldwide due to a robbery that took place in the museum. An art thief broke in during one night and stole several works by Picasso, Matisse, Braque, Modigliani and Léger. 
Great if You Love Modern Art
We recommend visiting the City of Paris' Museum of Modern Art if you are a fan of Modern Art. Those who are not extremely interested in art might feel a bit indifferent when visiting this "Musée". 
In summer, this museum has air conditioning, something rarely found in Paris, therefore making the visit more agreable. Another positive aspect is that the entrance is free.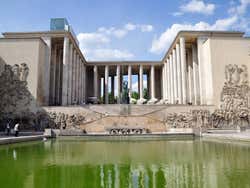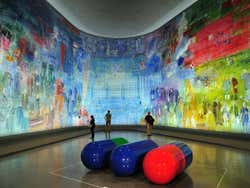 Schedule
Tuesday – Sunday: 10 am – 6 pm (Thursday open until 10 pm)
Monday: closed
Price
Free entrance. However, you are asked to donate between € 5 (US$ 5.40) and € 12 (US$ 12.90)
Transport
Metro: Alma-Marceau o Iéna, line 9.
RER: Pont de l'Alma, line C.
Bus: lines 32, 42, 63, 72, 80 and 92.