Built at the end of the twelfth century, the Château de Vincennes (Vincennes Castle) is the only Royal residence built during the Middle Ages that is still intact. 
The fortress, with an impressive turret standing 164 ft (50 m) tall, is one of the tallest in Europe. The Château de Vincennes is surrounded by a 3608 ft (1100 m)-long fortified wall with nine towers and is also protected by a moat, 88 ft (27 m) wide.
It is situated in the outskirts of the city center in the forest of Vincennes.
An ancient castle
Like most fortresses, the Château de Vincennes was originally a country house located in a hunting area. It was later remodelled and various generations of the Royal Family lived in the castle.
Between the sixteenth and seventeenth century the fortified tower was converted into a royal prison, where generals, aristocrats and famous individuals like Diderot, Count of Mirabeau, Fouquet or the Marquis de Sade were locked away.
Sainte Chapelle
The castle's Holy Chapel is a reproduction of the Sainte Chapelle located on the Île de la Cité. However, it is a lot more conservative and has no decoration in its interior. Nonetheless, its enormous original stained glass windows are very similar to the ones found in the Sainte Chapelle. 
Not as good as one would hope
Although it is possible to visit most of the fortress, climb the turrets and discover some of the castle's chambers, these are all completely bare and therefore it is hard to imagine how it would have been during the Middle Ages.
The château is a little far away from the city center, and for this reason and the starkness of the museum, we believe that there are more interesting landmarks to see before choosing to come all the way to the Bois de Vincennes to discover this fortress.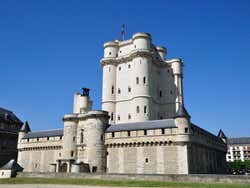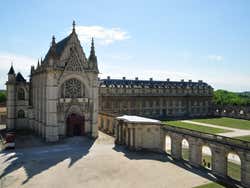 Schedule
22 September – 20 May: Open daily from 10 am – 5 pm
21 May – 21 September: Open daily from 10 am – 6 pm
Transport
Metro: Château de Vincennes, line 1.
RER: Vincennes, line A.
Bus: lines 46, 56, 112, 114, 115, 118, 124, 210, 318 and 325.