Paris Metro (Métro in French, Subway or Underground in English) is the fastest way of getting around the city. The underground system has 16 interconnected lines and is also linked to the express train RER.
Lines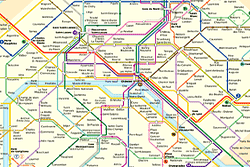 Paris Metro Map
The first line of the Paris Metro opened on 19 July, 1900, and connected Porte de Vincennes with Porte Maillot. Since then, the subway has grown gradually, inaugurating the last line in 1998. This line is considered one of the most modern worldwide. Currently, Paris Metro has 303 lines and is 136 miles (219 km) long.
The Metro signage is usually a letter M, or the words Métro or Métropolitain. The lines are numbered 1 to 14, and there are two additional lines called 3bis and 7bis. 
To get around the centre of Paris the Metro connects perfectly with the RER trains. Passengers can use the same travel card and the difference between the underground and train is barely noticeable. This guide includes a map of both the Metro and RER lines. 
Metro travel times 
The subway opens at 5:30 am and closes at 1 am. This means that the first metro leaves the first station at 5:30 am and the last metro arrives at the last station at 1 am. Therefore, to catch the last train, it is best to be waiting on your platform no later than 12:45 am.
The Underground runs until 2 am on Friday and Saturday.
Fares
There are different types of transport tickets: the single-journey called T+ Ticket, and the weekly or monthly travel cards: Paris Visite and Passe Navigo.
Interesting facts & figures
The subway line in Paris is the third-longest line in Europe after London and Madrid. It has over 300 stations and 136 miles of tracks.
It is said that there is no part of Paris that doesn't have a metro station 500 meters (1640 feet) away or less.
Other Types of Transport
The Metro is not the only way to get around Paris: click here to see the other transport options available to you.