The Church of Saint Sulpice (Église de St-Sulpice) is one of tallest churches in Paris and is one of the most popular ones thanks to its role in the novel and later film, The Da Vinci Code. 
It's an enormous temple with a simple and unfinished appearance.  
History
The construction of the church began in 1646 on the foundation of a Roman temple from the thirteenth century and was completed a century later.
Languet de Gercy, parish priest of Saint-Sulpice, ordered an astronomer to build a gnomon to determine Easter thanks to the equinoxes. The dial is a marble column that marks the hour thanks to the shadow it casts on the floor.
As a result of the church's gnomon, the church was not torn down during the French Revolution and is presently in a good state of preservation.
Saint Sulpice at a Glance
The Church of Saint Sulpice is as impressive from the outside as from the inside. Its enormous bare stone walls and columns give the building an incomplete aspect, which is also visible in its towers.
One of the most interesting parts of the temple are Delacroix's frescos, located on the right hand side of the entrance, in the Chapel of the Holy Angels. In the Church there is also a statue of Saint Peter (very similar to the one in the Basilica of Saint Peter and the Vatican) with a gold foot worn away from having been touched so many times.
During the year Saint Sulpice organizes concerts with its impressive tube organ, dating from 1862.
Place de Saint Sulpice
Dominated by the impressive Saint-Sulpice Church, the public square is a popular place where many tourists stop to catch their breath. There are various cafés to choose from and in the middle of the square there is a large fountain known as the Fountain of the Four Cardinal Points. It represents four bishops, each pointing to one of the cardinal points. Curiously, none of the four bishops ever became cardinals.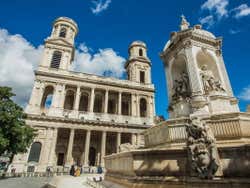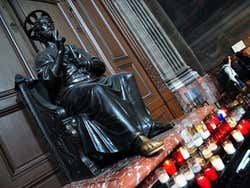 Schedule
Every day from 7:30 am to 7:30 pm.
Transport
Metro: Saint-Sulpice, line 4.