The Marais and Place des Vosges
The neighborhood Le Marais is located in the historic center of Paris. The land was a marshland before becoming one of the most fashionable and cosmopolitan areas of Paris.
After the construction of the Place Royale (Royal Square), which is now called Place des Vosges, the area was populated by the high society that built some of the most magnificent mansions and palazzos. Currently, travelers can visit some of these residencies that are now museums, such as the Musée Carnavalet, Musée Picasso, Musée Cognacq-Jay or Victor Hugo's mansion.
Nowadays, the Marais is a peaceful and charming area full of restaurants and stores. Furthermore, the largest Jewish community in Europe live in this neighborhood and it is also very popular among the LGBT community.
Place des Vosges
Inaugurated in 1612 to celebrate the wedding of Louis XIII and Anne of Austria, the Place des Vosges is the oldest planned square in Paris.
It has a dimension of 127 x 140 metres, and is surrounded by 36 identical housefronts made of red brick. In the square's center there is a pretty garden with Tilia trees, fountains and an equestrian statue of Louis XIII.
Travelers will find cafés and art stores on the ground floor of the red brick buildings.   
Victor Hugo's House
The French writer Victor Hugo lived from 1832 to 1848 in Place des Vosges, 6. Travellers can visit this apartment that is divided in three parts relating the story of the poet and writer before his exile, during and after.
The apartment is very beautifully decorated and furnished and the admission is free, making it a very interesting visit.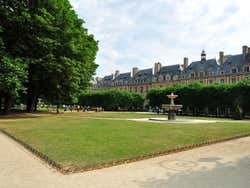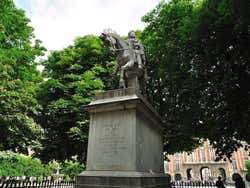 Transport
Metro: Bastille, lines 1, 5 and 8.