Built at the end of the French Revolution, the Chapelle expiatoire (Expiatory Chapel) is a neoclassical commemorative monument constructed on the grounds where Louis XVI and Marie Antoinette were buried after their execution.
Dedicated to the monarchs
When the monarchy was restored after the French Revolution, King Louis XVIII decided to build the Chapelle Expiatoire in memory of his brother Louis XVI and his wife Marie Antoinette. Their remains were also moved to the Basilica of Saint-Denis. 
The construction of the chapel began in 1815 and was finished in 1826. 
Inside the chapel
Inside the temple, there are two marble sculptures representing Louis XVI and Marie Antoinette. In the crypt, visitors will see a black marble altar with an inscription of the location where the monarchs' remains were found.
Not very worthwhile
Although the Expiatory Chapel held an important role in the past and is currently considered a historic monument, we believe that there are a lot more interesting things to see than this Chapel. It's a relatively small building with very little to see inside, and the admission ticket is quite pricey, in our opinion.
Skip the line ticket
If you don't want to waste time, you can buy a skip-the-line ticket to the Chapelle Expiatoire here: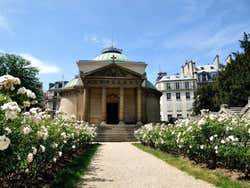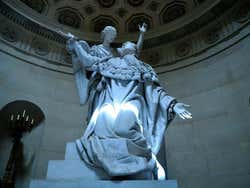 Schedule
October to March:
Tuesday, Thursday, Friday and Saturday: 10 am - 12:30 pm and 1:30 pm - 5 pm.
April to September:
From Tuesday to Saturday: 10 am - 12:30 pm and 1:30 pm - 6:30 pm
Transport
Metro: Saint-Lazare, lines 3, 12 and 13; Saint-Augustin, lines 3 and 13; Havre-Caumartin, lines 3 and 9; Madeleine, líneas 8, 12 and 14.
Bus: lines 32, 43,49, 84 and 94.