The Hôtel national des Invalides is one of the most important monuments in Paris and it is the burial ground of one of the most iconic historical figures of France: Napoleon. 
The magnificent complex of buildings of Hôtel national des Invalides was designed during the seventeenth century as a home and hospital for retired French soldiers.
First inhabitants of Les Invalides
In 1674, the first tenants of Les Invalides made these buildings their home. By the end of the century, there were over 4,000 soldiers and marines who had served in the French Armed Forces for over ten years and therefore could retire here. Contrary to what many might believe, these men spent most of their time studying and fixing shoes and army suits, among many other tasks. 
Saint-Louis-des-Invalides Cathedral
The cathedral was built for Louis XIV and the aged soldiers. Both would attend service every day, but would access the chapel through different doors.
Église du Dôme (Church of the Dome): Built between 1677 and 1706, the royal chapel later became a military pantheon, where the remains of Napoleon I rest. From the outside the golden dome standing 100 metres tall is extremely impressive. 
The Soldiers' Chapel: This part of the church is decorated with hundreds of trophies taken from the country's enemies, representing the French armed forces from 1805 up until the twentieth century.
Relevant and impressive
The Hôtel des Invalides is one of the most important monuments in Paris, not only because of the art work it houses and its beautiful golden dome, but because it is a decisive part of the French Armed Forces and it is the burial site of Napoleon I.
Inside, visitors can also visit the large Musée de l'Armée (Military Museum of the Army of France).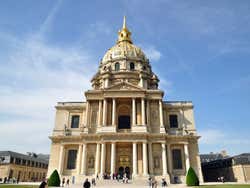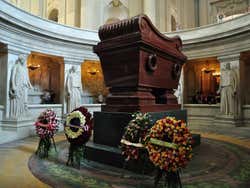 Schedule
Every day from 10 am to 6 pm (Tuesdays until 9 pm).
Price
Adults: € 14 (US$ 15)
Tuesdays from 5 pm: € 11 (US$ 11.80)
Children (under 18): free entry
Youth (18 – 25 who are EU residents): free entry
Free entry with the Paris Pass and Paris Museum Pass
Transport
Metro: Invalides, lines 8 and 13.
RER: Invalides, line C.
Bus: lines 28, 49, 63, 69, 82, 83, 87 and 92.