Paris has several tour bus operators. The most renowned are OpenTour, Big Bus Paris and Foxity Sightseeing Tour. Find in-depth information about what each company offers and choose the best option.
All sightseeing buses in Paris are open-top double-deckers and include an audio guide in English.
We provide you with information on each of the different tour bus operators so you can choose which one you prefer:
Paris OpenTour
The OpenTour bus is yellow and blue and allows its passengers to hop off and hop on as many times as they want during the validity of their ticket.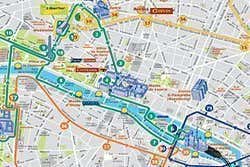 OpenTour itinerary
Itinerary 
Paris OpenTour has three different routes with over 34 stops and passengers can choose any of these 3 lines and combine them without any problem.
Blue line: Rides past the top landmarks of Paris, like the Louvre Museum, Champs-Élysées, Eiffel Tower, Notre-Dame Cathedral, Les Invalides…
White line: Travels down the left bank of the River Seine. It passes by the Catacombs of Paris, Boulevard Montparnasse, St. Germain-des-Prés, and the Pont Neuf, among others.
Red line: This line includes the main attractions on the right side of the Seine, like the Moulin Rouge, Montmartre, and République, among others.    
Schedule & timetable
The routes and schedules of the OpenTour buses vary depending on the route and time of year. Between April and October, buses run from 9:30 am to 8 pm approximately and from November to March from 9:30 am to 6:30 pm. The frequency also varies, ranging from 10 – 30 minutes.
Fares
Open Tour Paris Prices
Validity
Adults
From 4 to 12
1 day
€ 34 (

US$

36.60)
€ 17 (

US$

18.30)
2 days
€ 38 (

US$

40.90)
€ 17 (

US$

18.30)
3 days
€ 42 (

US$

45.20)
€ 17 (

US$

18.30)
Adults with a Paris Visite travel card have a € 4 (US$ 4.30) discount for the 1-day Open Tour and children under 4 travel for free. Those who want to combine the Batobus with an OpenTour bus tour can purchase a special rate for a 2-day pass for both means of transport. 
Big Bus Paris
Big Bus Paris (used to be called Les Cars Rouges) is the oldest tour bus operator in Paris. These buses are red, as the name used to suggest.
Itinerary 
Paris is extremely well-lit up at night and it's worth discovering the city after dusk. This is why the Big Bus operator includes a tour of Paris at this time of day when visitors will be able to see the main monuments illuminated. 
Big Bus Paris has one line that takes a little over two hours with eleven stops. Passengers can hop off and hop on at any of the following stops: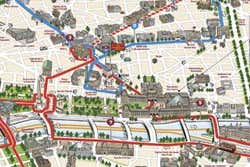 Big Bus Paris itinerary
Schedule & timetable
The Big Bus Paris schedule is approximately from 9:30 am to 8:15 pm. However, it depends a lot on each stop. The last bus passes by the Louvre Museum or Notre Dame at 6:25 pm. The frequency varies between 10 and 20 minutes, depending on the time of year.
Fares
Big Bus Paris Prices
Validity
Adults
From 4 to 12
1 day
€ 37.80 (

US$

40.70)
€ 19.80 (

US$

21.30)
2 days
€ 46.80 (

US$

50.40)
€ 22.50 (

US$

24.20)
2 days + Cruise
€ 58.50 (

US$

63)
€ 28.80 (

US$

31)
Night tour
€ 27 (

US$

29)
€ 14 (

US$

15.10)
For your convenience, you can purchase tickets online here.
Foxity Sightseeing Tour
Foxity Sightseeing Tour was the last tour bus to arrive in Paris. At first, this company only included a bus tour without having the hop-on, hop-off option. However, due to pressure from tourists, it now allows its passengers to hop on and off.
Foxity also organizes night tours. 
Itinerary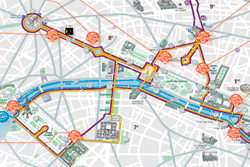 Foxity Sightseeing Tour itinerary
The buses leave from the Eiffel Tower and its itinerary is very similar to the Big Bus Paris one. 
Schedule & timetable
The timetable varies depending on the time of year. We recommend checking the times on their webpage. 
Fares
The ticket price is 29EUR for adults. For children between 4 and 12 ticket price, is € 19 (US$ 20.40), and children under 4 years old take the tour for free. 
Which tour bus to choose?
All of the above companies offer very similar services, although we recommend Paris OpenTour, as it has more routes and more stops, and therefore offers a more complete tour.
You can find more information on the different operator's webpages: