Champs de Mars
Champs de Mars (Field of Mars) is a peaceful green space located at the foot of the Eiffel Tower. On the opposite side is the impressive building of the École Militaire.
History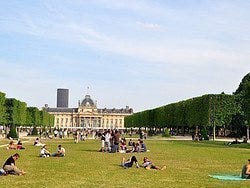 Champs-de-Mars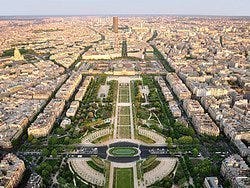 Champs-de-Mars park from the Eiffel Tower
Originally, the Champs de Mars was where the Parisians grew their vegetables and fruit. When the École Militaire (Military School) was built on the southeast side of the park, the land was used for military drills. The name Champs de Mars comes from that period, honouring Mars, the Roman war god.
This open area has witnessed important events, such as different Revolutionary acts or the 1791 massacre. Moreover, the famous world fairs, Exposition Universelle of 1867, 1878 and 1889 took place here.  
Behind the École Militaire is UNESCO's famous headquarters.
Ideal for a picnic
Champs de Mars is currently a favourite spot for both Parisians and tourists to sit and relax, go for a walk or enjoy a picnic whilst enjoying the views of the impressive Eiffel Tower monument on the northwest side of the park.
Location
At the foot of the Eiffel Tower
Map
Hotels nearby