The Passe Navigo is the travel card used by the inhabitants of Paris and the cheapest way of getting around Paris. Travelers can either purchase a weekly pass or a monthly pass.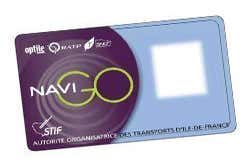 Passe Navigo
The Passe Navigo can be used on the metro, bus, RER, tram, Montmartrobus, Noctilien and Montmartre funicular.
Until January 2009 there was the Carte Orange, a card with the same function that has been replaced by the new pass. The differences are that the Passe Navigo is electronic, costs € 5 (US$ 5.40) and is valid for 10 years.
Zones
As with the Paris Visite, when purchasing the Passe Navigo it's necessary to choose the zones of validity.
If you're only going to use the transport to move around the center of Paris, the pass for zones 1-2 is enough. To get to Charles de Gaulle Airport, Orly or Disneyland, it would be necessary to have zones 1-5.
Disadvantages
There are three drawbacks that make it more practical in many cases to purchase the Paris Visite:
The Passe Navigo must be used for full weeks, i.e., Monday through Sunday.
You'll need a passport photo to obtain the pass.
The Passe Navigo costs € 5 (

US$

5.40) and is non-refundable.
Where to purchase the Passe Navigo?
The Passe Navigo Découverte can be purchased at any Metro station, RER stations and airports.
Passe Navigo Fares
Zones
Weekly
Monthly
Zones 1-5
€ 22.80 (

US$

24.40)
€ 75.20 (

US$

80.50)
Zones 2-5
€ 20.65 (

US$

22.10)
€ 67.90 (

US$

72.70)
Zones 3-5
€ 19.80 (

US$

21.20)
€ 65.50 (

US$

70.10)
Zones 4-5
€ 19.85 (

US$

21.20)
€ 65.20 (

US$

69.80)
*The Passe Navigo does not offer special prices for children.