This temple has a great historical and architectural importance as it is the first Gothic church ever built and is the burial site of the French Royal Family. 
The Basilica of Saint-Denis (Saint-Denis or Dionysius) is located to the north of Paris, in a neighborhood with the same name as the Basilique. 
History
Saint-Denis, the first Bishop of Paris during the third century and Patron Saint of France, was buried where the Basilica of St Denis currently stands. A church was built in his honor and later, in 1136, it was transformed into a Gothic-style Basilique that was not completed until the end of the thirteenth century.
During the French Revolution, in 1793, the burial chamber was desecrated and the remains of the Royal Family were placed in a common pit until 1817. From hereafter, the remains of the Monarchy that were identified rest in their corresponding graves in the Basilica of Saint-Denis, whereas the bones that couldn't be classified were placed in the ossuary located in the church's crypt.
Visiting the Basilique
The Basilica of Saint Denis is a magnificent abbey church with a lot of light thanks to its numerous stained glass windows. The most charming part of the Basilique is the ambulatory, the choir, and the crypt, which are parts of the museum in which travelers can also visit the burial sites of the French Kings.
Some of the most prominent people buried in this church include Louis VIII The Lion, Felipe IV The Fair, Charles V The Wise, Empress Elisabeth of Austria, Anna of Austria, and Marie Antoinette.  
Interesting but Not an Essential Visit
The Basilica of St Denis is a very beautiful temple. However, it's located in the outskirts of the city and may not be worthwhile visiting if you're only in Paris for a few days.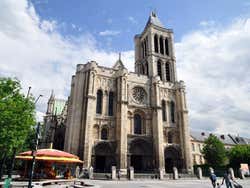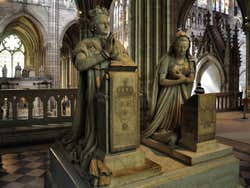 Schedule
2 January to 31 March: 
Monday to Saturday: 10 am to 5:15 pm.
Sunday: 12 pm to 5:15 pm.
1st April to 30 September:
Monday to Saturday: 10 am to 6:15 pm.
Sunday: 12 pm to 6:15 pm.
Price
Museum:
Adults: € 9.50 (US$ 10.20)
Reduced fare: € 7.50 (US$ 8)
Children under 18 and EU Citizens under 25: free entry