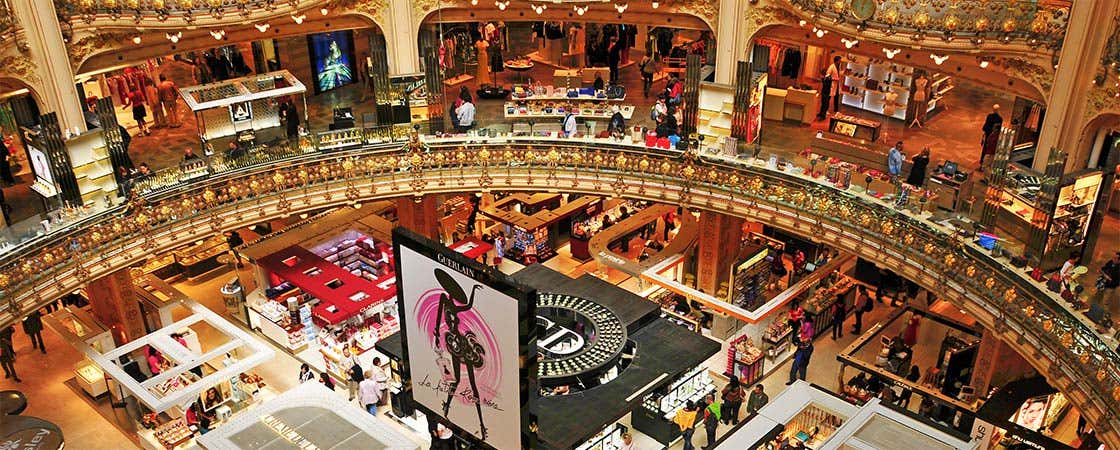 Paris is one of the top destinations for shopping, especially for those who are looking for high-end stores and items by famous fashion designers.
In this section, we'll take a look at the shops, high streets and where to buy different products.
Department stores
Galeries Lafayette (Boulevard Haussmann 40): Declared historic monument thanks to its spectacular Neo-Byzantine dome, Galeries Lafayette is one of the most visited department stores in the world. It is worthwhile visiting the building, even if you don't plan on buying anything.
Printemps (Boulevard Haussmann 64): Very close to Lafayette, the department store Printemps includes the most expensive luxury fashion brands worldwide. Visitors will find it difficult to find items for less than 300.
Bazar de l'Hôtel de Ville, BHV (Rue du Temple 14): This well-known department store could be compared to the Spanish "Corte Inglés", a large store that sells different clothing brands, not as luxurious as the previous two.
High-end shopping streets
The Latin Quarter is a great option if you're looking for high streets with affordable shops. The streets: Saint-Germain Boulevard, Saint-Michelle Boulevard and the neighbourhood's cobbled streets are all worth discovering.
Champs-Elysées: The city's most popular avenue is also renowned for its exclusive stores, luxury brands and designer fashion. This is where Louis Vuitton's insignia shop is, attracting hundreds of clients and thousands of curious tourists to its window display each day. The majority of its clients are wealthy Asians.
Avenue Montaigne: This small street is where the city's most exclusive and high-end shops are found. It is worth visiting, at least to see the extravagantly decorated window displays.
Rue Royale: This street connects Place de la Concorde with la Madeleine. Halfway down the street, Rue Saint-Honoré cuts it perpendicularly. This artery is where stores like Hermès, Prada or Yves Saint Laurent are found. If you continue walking east, you'll get to Place Vendôme.
Markets
Île de la Cité Market: Located in the Place Louis Lépine and open during the whole year, this market is one of most famous in Paris. On weekdays there are flower stands and on Sunday they sell birds as well.
Marchés aux puces de Saint Ouen: In this huge open-air market travellers will be able to find from antiques to clothes. The most important days are Saturday and Sunday. The best way to get to the market is taking the metro to the Porte de Clignancourt station.
Gift shops
The cheapest souvenir gift shops are found in Montmartre, both at the top of the hill near Place du Tertre and at its foot in Rue de Steinkerque. This road connects the Metro station Anvers to the funicular.
Paintings and other decorative objects
Montmartre is not only a good neighbourhood to buy souvenirs, it is also the best place to buy local art. In the square Place du Tertre travellers will find artists painting and selling their artwork. Visitors will also find art galleries and shops in this area.
To buy posters or old prints we recommend walking down the bank of the River Seine where you'll find stands specialized in this type of products.
Gastronomic products
During your stay in Paris you'll get the chance to try the delicious pastries and bread the city is so famous for. However, if you're looking for something to bring home, we suggest purchasing wine, cheese and foie gras. These products are easily found in any type of supermarket or gourmet food store. An option is to get them in the Galeries Lafayette.