Arc de Triomphe
The Arc de Triomphe is, along with the Eiffel Tower, one of the main symbols of Paris. It stands 146 ft (50 metres) tall, 148 ft (45 metres) wide and 72 ft (22 metres) deep. The monument represents all the French military victories in the Napoleonic Wars.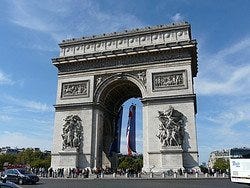 Arc de Triomphe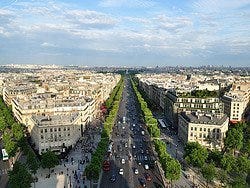 Champs-Élysées from the Arc de Triomphe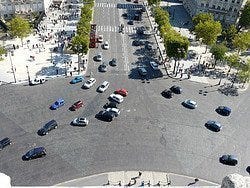 Arc de Triomphe roundabout, a nightmare
Designed by Jean-François Chalgrin, the Arc took thirty years to build. It was commissioned by Napoleon in 1806 at the end of the battle of Austerlitz and inaugurated by King Louis-Philippe.  
The two-century-old Arc de Triomphe has witnessed the city's most relevant turning points, including Napoleon's funeral on the 15 December, 1840, the World War I victory parade in 1919 and the "Victory Day" parade to celebrate the end of World War II in 1944.
The base of the Arc de Triomphe
At the base of the Arc is the Tomb of the Unknown Soldier, erected in 1921. With a burning flame, it represents all French soldiers who died during World War I and were never identified. 
Each of the four pillars represents important victories, such as the French resistance during the War of the Sixth Coalition in 1814, the Treaty of Paris in 1815, La Marseillaise and the Treaty of Schonbrunn in 1810.
Visiting the Arc de Triomphe
Although this Roman-inspired arch doesn't stand as high as the Eiffel Tower, its views are equally breath-taking. Another reason to climb to the top is to see the meeting point of the city's twelve avenues in the same Place Charles de Gaulle. Lastly, the views of the Champs-Élysées and La Défense neighbourhood are striking from this spot. 
To get to its observation deck, visitors will have to pay the admission ticket and go up 286 steps. Inside there is also a small museum and information about its construction.
How to reach the Arc de Triomphe?
To get to the base of the Arc du Triomphe you will have to take the underpass on the Champs-Élysées. Do not try to cross the roundabout, as this is one of the most dangerous in the world.
Location
Place Charles de Gaulle .
When to visit
From April 1 to September 30: 10 am – 11 pm
From October 1 to March 31: 10 am – 10:30 pm
Closed on January 1, May 1, May 8 (morning), July 14, November 11 (morning) and December 25.

Fares
Adults: 12€
Children (under 18): free entry
Youth (18-25 citizens of the EU and non-European residents): free entry
Free entry with the Paris Pass and Paris Museum Pass

Transport
Metro: Charles de Gaulle - Etoile, lines 1, 2 and 6.
RER: Charles de Gaulle - Etoile, line A.
Bus: lines 22, 30, 31, 52, 73 and 92.

Map
Related activities
LAST PLACES!

Admire Paris' most famous landmarks during a panoramic city bus tour, a one-hour scenic cruise along the Seine and skip the line access to the Eiffel Tower.

5 hours

101$