La Défense
Located in the west part of the city, La Défense is one of the major business districts in Europe, similar to The City in London. There are hundreds of high-rises and buildings belonging to the top companies in the world in this area.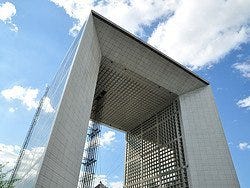 The Arche de la Défense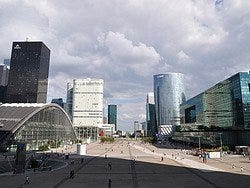 The Défense
La Défense neighborhood offers visitors a different panorama of Paris. Packed with futuristic skyscrapers, this area includes a shopping mall called Quatre Temps with a variety of restaurants and retail and electronic stores.  This department store, built in 1980, was the largest in Europe during the eighties. 
As well as soaring towers of glass and cement, the district houses an open-air exhibition of over sixty contemporary works of art, squares, fountains, and hanging gardens.
The Arche de la Défense
The Grande Arche de la Fraternité, best known as the Grande Arche de la Défense or simply as the Grande Arche, is one of the main monument buildings found in La Défense district.
Inaugurated in 1989, the Arche is 361 ft (110 m) tall and shaped like a huge empty cube. It is made of marble and granite and covered with glass.
This impressive building has an observation deck on the top of the arch that visitors can climb to enjoy a bird's-eye view of Paris every day of the week from 10 am to 8 pm. For more information on the admission fares, you can check out the Grande Arche de la Défense's official website:
Location
Northeast of Paris, at the end of Avenue Charles de Gaulle.
Transport
Metro: La Défense, line 1.
RER: La Défense, line A.
Tramway: La Défense, línea 2.
Map
Hotels nearby