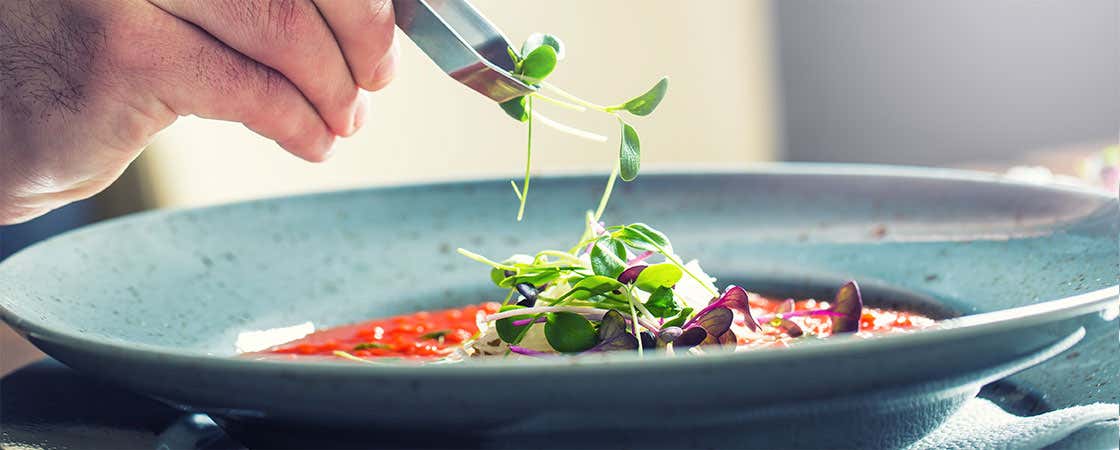 French cuisine is considered to be one of the best in the world, making Paris one of the top international culinary capitals worldwide.
French cooking is full-flavored and varied thanks to the fresh ingredients and the country's cultural diversity.
Traditional dishes
These are some of the traditional dishes that you can try in the restaurants of Paris:
Foie gras: fattened duck or goose liver.
Boeuf Bourguignon: known in English as Burgundy beef, is beef stewed in red wine.
Escargots: snails.
Croque-monsieur: baked or fried ham and cheese sandwich.
Quiche Lorraine: savoury open pie made of eggs, cream and other ingredients such as bacon, cheese or different varieties of vegetables.
Fromage: cheese.
Coq au vin: chicken and vegetable casserole cooked in wine.
Pot-au-feu: beef stew with vegetables.
Brioche: pastry made of eggs, baking powder, milk and sugar.
Tarte Tatin: thin caramelised apple pie.
Crepe: thin type of flour pancake that can be filled with savoury or sweet ingredients.
Ratatouille: stewed dish made of aubergines, tomato, courgette, peppers and basil.
French cheeses
France is one of the top cheese makers worldwide. Known by many as the country of 1,000 cheeses, it is possible to eat a different type of cheese every day of the year.
Walking around the city and especially its markets, visitors will be surprised by the quality and quantity of cheese available. The country produces over 400 different varieties.
Patisseries and pastries
Some of the most exquisite French foods are the bread, pastries and desserts. Paris has thousands of boulangeries and patisseries (bakeries), where visitors will be able to enjoy some of the most delicious sweet goodies just out of the oven.
We recommend all travellers to try the brioche and the renowned pain au chocolat, similar to a croissant, but with an oozing chocolate centre. A curious fact is that the famous croissant is originally from Austria, not from France.
When to eat?
Generally, the French eat quite early. Most restaurants in Paris open from midday until 3 pm for lunch and then from 7:30 pm - 11 pm for dinner.
Be that as it may, it won't be difficult for tourists to find restaurants open for longer hours since Paris is a very cosmopolitan city and is used to tourism.
Prices
Although it's not a cheap city, the prices of restaurants in Paris are not much higher than those usually found in the main European capitals.
Depending on your budget, you can either try the most special and avant-garde dishes in the city's most chic restaurants or go for a two-course meal and dessert from € 30 (US$ 32.70).
Best neighbourhoods to eat out
Tourists will find restaurants and places to eat in all of Paris' neighbourhoods. However, if you're looking to discover the best areas to enjoy good French cuisine, these are the most popular places to eat out:
The Latin Quarter
The Latin Quarter is on the north side of the Panthéon. In this district, travellers will find French as well as international restaurants. This area is one of the top amongst most visitors. Here, you'll find extremely cheap places to eat.
Montmartre
Montmartre has some excellent restaurants with very good prices. If you decide to eat in this area, you can make the most of your trip to this neighbourhood visiting the Basilique du Sacré-Coeur (Basilica of the Sacred Heart of Paris). At night, Place du Tertre has an extremely lively atmosphere, a lot more charming than during the day.