Opened in 1905 with the merger of the Musée d'Artillerie (Artillery Museum) and the Musée Historique de l'Armée (Historic Military Museum), the Musée de l'Armée (Military Museum) is one of the most popular art and military history museums in the world. 
Located in the magnificent Hôtel national des Invalides, the museum contains collections that cover the period from antiquity to World War II. 
Exhibitions
Visitors will be able to journey through the country's military past thanks to numerous objects, weapons, armor, costumes and photographic material. The exhibits are arranged in chronological order, making it easy to follow the events. 
One of the most interesting parts of the museum contains weapons and armor from around the world, grouped according to their origin. Another section which we found curious is dedicated to the two World Wars. 
Within the Musée de l'Armée is the museum of military models, which contains over one hundred models of different fortified cities dating from 1668. These were built for King Louis XIV to carry out his plans of conquest. 
A Very Complete Collection
The Musée de l'Armée is very large and several hours are needed to see all of its collection. We recommend this museum to those who are interested in the subject or are in Paris for over a week.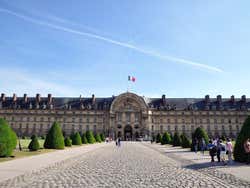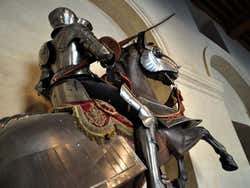 Schedule
Open every day from 10 am to 6 pm (Tuesdays from September to January until 9 pm).
Price
Adults: € 14 (

US$

15)
Concessions: € 11 (

US$

11.80) 
Youth (less than 18): free entry
EU Citizens (18 – 25): free entry
Daily from 5 pm and Tuesday afternoons: € 7 (

US$

7.50)
Free entry with the Paris Pass and the Paris Museum Pass.
The ticket includes access to the tomb of Napoleon I.
Transport
Metro: Latour-Maubourg line 8; Invalides, lines 8 and 13 ;Saint-François-Xavier and Varenne, line 13.
RER: Invalides, line C.
Bus: lines 28, 63, 69, 80, 82, 83, 87, 92 and 93.