Musée Cluny
The National Museum of the Middle Ages (Musée national du Moyen Âge), also known as Musée de Cluny, houses one of the most complete medieval art collections and craftwork worldwide.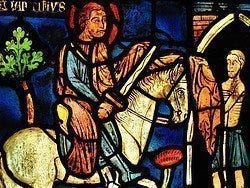 Stained glass in the Musée Cluny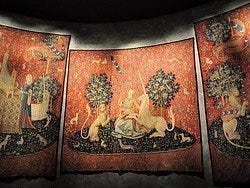 Medieval tapestry of Lady and the Unicorn
The Musée Cluny is located in a Medieval mansion next to the ruins of Gallo-Roman baths, from the first or second century.
Exhibitions
The exhibitions contain an enormous variety of antiques, including tapestries, ivory and sculptures.
Although the collection has over 23,000 artworks and objects, the museum only exhibits 2,300 of them. Some of the most important items include stained glass, tombstones, weapons, shields and reliquary. However, the most famous items in the museum are the tapestries of the Lady and the Unicorn, dating back to the fifteenth century.
Very interesting 
Both the art collection and the medieval mansion are extremely interesting to visit, and are very different from the rest of museums in Paris. In addition, the Gallo-Roman baths (Thermes de Cluny) are one of the most valuable constructions of the Antiquity in Paris.  
Location
6, Place Paul Painlevé.
When to visit
Wednesday – Monday: 9:15 am – 5:45 pm
Tuesday: closed
Closed on 1 January, 1 May and 25 December

Fares
Adults: 8€
Youth (less than 18): free entry
EU Citizens (ages 18 – 25): free entry
Paris Museum Pass and the Paris Pass: free entry

Transport
Metro: Cluny-La Sorbonne , line 10 ; Saint-Michel, line 4; Odéon, lines 4 and 10.
Bus: lines 21, 27, 38, 63, 85, 86 and 87.
RER: Saint-Michel, line C; Cluny - La Sorbonne, line B.

Map
Hotels nearby