Created in 1635 as a medicinal garden for Louis XIII, the Garden of Plants has been used throughout the centuries by botanists, doctors and pharmacists.
When the French Revolution ended, it became a botanical garden (Jardin des Plantes) and in 1793 the Natural History Museum opened in the vicinity.
The Garden's Top Sights
The Jardin des Plantes is divided into several sections. These are some of the parts that are worthwhile visiting:
Ménagerie: This zoo, inaugurated in 1794, is one of the oldest in the world.
Labyrinth: A mesh of hedges, meant to be a labyrinth, but leaves much to be desired.
Historic trees: Throughout the park visitors can find trees planted in 1734.
Rose garden: Designed in 1990, the rose garden has over 170 types of European roses.
Alpine garden: This garden has over 2,000 plants from the Alps, North America and the Pyrenees and Himalaya. 
Natural History Museum: The museum is located in different galleries along the park. Especially worthwhile is the Grande Galerie de l'Évolution (Evolution gallery), where visitors will find hundreds of different stuffed animals.    
To visit the museums in the Jardin des Plantes visitors will have to pay an admission ticket.
Contemplating Nature 
Although the Jardin des Plantes covers 28 hectares (280,000 m²) and includes many different areas, its beauty does not compare to the Luxembourg Garden, which is a lot more interesting and with a lot more things to see.
The Garden of Plants is ideal for those who wish to enjoy nature and discover different plant species. For those who prefer to go to a park to enjoy the sun or go for a stroll, we recommend visiting the Jardin du Luxembourg or Jardin des Tuileries.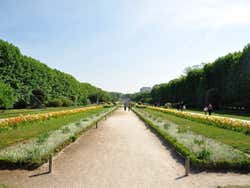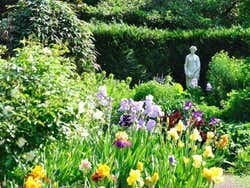 Schedule
Summer: 7:30 am – 8 pm
Winter: 8 am – 5:30 pm
Transport
Metro: Austerlitz, lines 5 and 10; Jussieu, lines 7 and 10.
Autobús: lines 24, 57, 61, 63, 67, 89 and 91.
RER: Austerlitz, line C.