The Musée d'Orsay features an impressive nineteenth century art collection covering the artistic period between the works of art found in the Louvre and those in the Centre Pompidou, from 1848 to 1914.
The Building
The Museum is located in an ancient railway station that was opened in time for the World's Fair in Paris in 1900. Until 1939, the Gare d'Orsay (Orsay Station) had a very high usage as it was one of the city's terminuses. 
After World War II, the station was no longer used, and in 1960 plans had been made to tear it down.
Nonetheless, in 1977 it was decided to convert the railway station into a museum, which would open years later, in 1986.
Visitors can still appreciate the charming railway station building as it was when it was opened in 1900.
The Exhibitions
The Musée d'Orsay features Impressionist and Post-Impressionist paintings, as well as a vast collection of sculptures, decorative arts and architectural elements.
In the central part of the ground floor of the Museum there is a collection of striking sculptures and on both sides of the building paintings dating from 1848 to 1870.
On the top floor are the works of art belonging to one of the most significant periods for the Art world, between 1874 and 1886, including paintings by Renoir, Cézanne, Gauguin and Monet. On this floor, visitors will see certain decorative elements, as well as a beautifully decorated banquet hall.
Great Surroundings to Enjoy a Bit of Art
Compared to other enormous and complicated museums, for example the Louvre, the Musée d'Orsay is very enjoyable to discover and houses a very complete Impressionist and Post-Impressionist art collection. This and the special location of the museum make it one of the top museums in Paris in our opinion.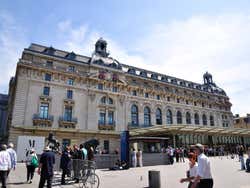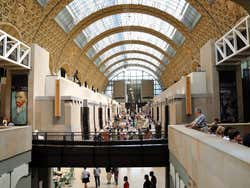 Schedule
Tuesday – Sunday: 9:30 am – 6 pm (Thursdays until 9:45 pm)
Monday: closed
Transport
Metro: Solferino, line 12.
RER: Musée d´Orsay, line C.
Buses: 24, 63, 68, 69, 73, 83, 84 and 94