Musée de l'Orangerie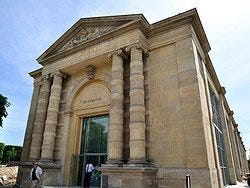 Musée de l'Orangerie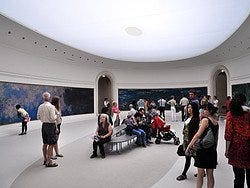 Water Lilies by Monet in the Orangerie
Housed in a magnificent building constructed in 1853 as an orangery, the Musée de l'Orangerie (Orangerie Museum) features an impressive collection of Impressionist paintings, including masterpieces by Monet. 
Exhibitions 
The museum's most famous halls are where Monet's Water Lilies oil paintings are found. The artist gave precise instructions on how the paintings had to be hung, giving the impression that these enormous murals come alive when you walk into the oval halls.
L'Orangerie also contains works by renowned artists such as Cézanne, Renoir, Picasso, Rousseau and Matisse. 
Small but charming
In our opinion, the Musée de l'Orangerie is one of the best art museums along with the Musée d'Orsay. The collection is small but fascinating and the building is magnificent. Visitors won't be disappointed. 
Location
In the Jardin des Tuileries, near Place de la Concorde
When to visit
Wednesday – Monday: 9 am – 6 pm
Fares
Adults: 9€
Youth (less than 18): free admission
EU Citizens (18 – 26): free admission
1st Sunday of each month: free admission
Free entry with the Paris Pass and the Paris Museum Pass.
Transport
Metro: Concorde, lines 1, 8 and 12.
Bus: lines 24, 42, 52, 72, 73, 84 and 94.

Map
Hotels nearby