With an enormous dome which is visible from numerous parts of Paris, the Sacred Heart Basilica of Montmartre (Sacé-Coeur) is housed in the charming Montmartre neighborhood, known as the Painter's Neighborhood.
The Sacred Heart Basilica of Montmartre, known in French as the Basilique du Sacré-Coeur, is one of the most important religious buildings in Paris. Situated on the top of Montmartre, a 427 ft (130 m) hill, it offers an incredible view of the city.
Designed by Paul Abadie, the construction of the church began in 1875 and was completed in 1914. It was consecrated as a basilica five years later, on 16 October 1919.
The Sacré-Coeur is extremely impressive, standing 272 ft (83 m) tall, 115 ft (35 m) wide, and 272 ft (83 m) long.
Visiting the dome and crypt
Visitors can climb to the top of the dome for a panoramic view of Paris. Nevertheless, visiting the inside of the Basilique is not one of the top things to do and there are other monuments that offer a better bird's-eye view of the French capital, such as the Eiffel Tower and the Arc du Triomphe.
In the same way, we do not recommend visiting the crypt as there is nothing special to see.
Montmartre funicular
To get to the Sacré-Coeur Basilica you can take the Montmartre funicular, inaugurated in 1900. It's very close to the Anvers subway entrance and it costs the same as a t+Ticket.
By taking this cable car you'll be able to skip walking up 197 flights of stairs, which is highly recommendable, especially on the hottest days of the year.
Surrounding areas of Sacré Coeur
In the surrounding areas of the Basilique visitors will find countless restaurants, stores, and a very unique atmosphere. It's worth discovering its streets to understand why the area is called the painter's neighborhood.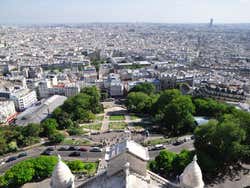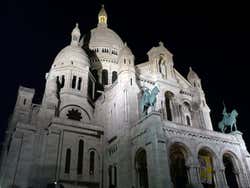 Schedule
Every day from 6 am - 10 pm