The Musée Picasso (Picasso Museum), located in the Hôtel Salé, features the work of the Spanish artist Pablo Picasso and houses a large collection of the artist's sculptures.
Opened in 1985, the museum also contains thousands of documents and photographs that belonged to the artist. 
Nowadays, the Picasso Museum is an important research center of Picasso's life and work.
The Building
The Hôtel Salé, located in the Marais district of Paris, is a striking building constructed between 1656 and 1659. Before housing the Picasso Museum, some of its occupants included the Embassy of the Republic of Venice, a school, and the École Centrale des Arts et Manufactures (a graduate institution).   
Collection
The Picasso Museum contains over 200 paintings, 150 sculptures, relief paintings, ceramics, drawings, engravings, and manuscripts.
The museum also houses different works collected by Picasso throughout his life from his fellow artists such as Matisse, Miró, and Derain or other artists that he admired greatly like Cezanne, Degas, and Rousseau.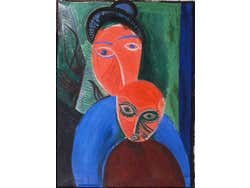 Schedule
Tuesday – Friday: 10:30 am – 6 pm
Saturday and Sunday (and public holidays): 9:30 am – 6 pm
Mondays: closed
Price
Adults: € 14 (US$ 15)
Transport
Metro: St-Paul, line 1; St-Sébastien Froissart and Chemin Vert, line 8.
Buses: 26, 69, 75 and 96.