The Catacombs of Paris are a network of tunnels that are used as an ossuary for millions of people from various periods. It was opened to the public in 1874.
It is thought that the Catacombs hold the remains of over 6 million people buried along one of its 186 mi (300 km) tunnels.
History of the Catacombs
Before becoming Catacombs, these tunnels were used as a limestone quarry for a large amount of monuments and buildings that have become some of the city's top attractions. During this period the tunnels were called Les Carrières de Paris (the quarries of Paris).
In 1786, to fight the epidemics and illnesses that were devastating the city's population, the Government decided to move the corpses and skeletons of various cemeteries to the tunnels.
Of the 186 miles (300 km) of tunnels, only a small portion is open for the tourists.
Visiting the Catacombs
Although the visit to the Catacombs is quite a chilling experience, it is curious to see an infinite amount of human bones and skulls piled on top of each other forming vast constructions.
Despite the Catacombs being a top attraction in Paris, they are never crowded.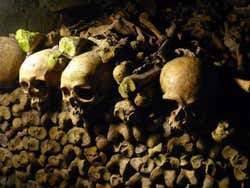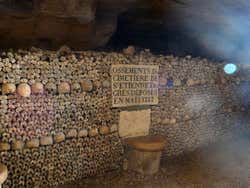 Schedule
Tuesday – Sunday: 10 am – 8:30 pm (last entry 7:30 pm)
Monday: Closed
Price
Adults: € 15 (US$ 16.30)
Youth (18-26 years old): € 13 (US$ 14.20)
Children (up to 18 years old): free entry
Paris Catacombs Guided Tour € 89.10 (US$ 97)
Transport
Metro: Denfert-Rochereau, lines 4 and 6.
RER: Denfert-Rochereau, line B.
Bus: lines 38 and 68.