Housed in a mansion that was designed as a hunting lodge for the Duke of Valmy, the Musée Marmottan Monet (Marmottan Monet Museum) features one of the most complete collections of Impressionist and Post-Impressionist paintings.
It also houses the largest collection of Claude Monet works in the world. 
History
In 1882, Jules Marmottan purchased Duke Valmy's hunting lodge, leaving it to his son after his death. His son remodeled the building to house his art collection from the Napoleonic era, which he later left to the Académie des Beaux-Art. 
Subsequently, the collection was completed by several private donations of Impressionist works including Claude Monet's second son, who left his collection of his father's work to the museum. 
Exhibitions
The mansion, which is decorated with Napoleonic-era decorative elements, contains the world's largest collection of Monet's paintings, made up of 66 paintings. In addition to the works by Monet, the museum also houses works by Impressionist painters such as Manet, Pissarro, Renoir, Rodin, or Sisley and a significant number of creations by Berthe Morisot, Manet's wife. 
Probably one of the most curious halls of the mansion is the Wildestein room, which contains a number of manuscripts and texts dating from between the thirteenth and sixteenth century in a barely lit room. 
Great if You Love Impressionism
We believe that this museum is too pricey and far out for what it offers. In Paris, there are countless museums with more interesting collections. Therefore, we would only recommend it to those who are fans of Impressionism and Post-Impressionism.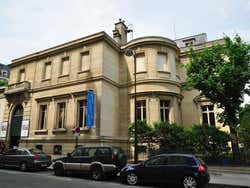 Schedule
Tuesday – Sunday: 10 am – 6 pm
Thursday: open until 9 pm
Price
Adults: € 14.50 (US$ 15.60)
Youth (less than 18): € 10 (US$ 10.80)
Children (less than 7): free entry