Eiffel Tower
The Eiffel Tower is a wrought iron tower that stands 1,063 ft (324 m) tall. It was designed for the Exposition Universelle, a world fair held in Paris in 1889. It is currently the most famous symbol of Paris.
Origin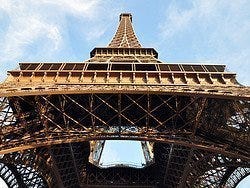 The symbol of Paris, Eiffel Tower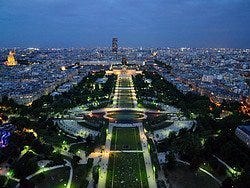 Views from the top of the Eiffel Tower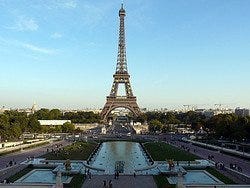 View of the Eiffel Tower from the Trocadero
Two senior engineers working for the architect and engineer Gustave Eiffel designed the Tower, which was then approved by Eiffel and proposed as the center piece for the world fair held in France's capital, the Exposition Universelle in 1889. Once approved, 250 builders were hired to build the monument, which took over two years to finish.    
Initially, the Eiffel Tower was subject of controversy. The artists of the period thought the monument to be monstrous, and given its low profitability it was suggested on several occasions that they should demolish it.
During World War I, enemy messages were intercepted thanks to the tower radiotelegraphy center.
Currently, the Eiffel Tower is the most-visited monument in the world with over 7 million visitors a year. This is partly due to the popularity of Paris as a tourist destination.   
Visiting the Eiffel Tower
If it's your first time in Paris, going up the Eiffel Tower is a must. Visitors can choose to go up using the Tower lift or the stairs. However, before making your mind up on how you want to visit the monument, it is important to keep in mind that there are 1,665 steps to the top.
If you decide to take the stairs, you can only visit the second floor. Although the stairs admission ticket is cheaper, the difference is not worthwhile and we recommend taking the elevator.
The best moment to enjoy the breath-taking views of Paris is early in the morning to avoid the lines or at dusk, when visitors will see Paris lit up.
Buying your ticket online
Another way of skipping the lines is by purchasing the tickets online. You can get them on the official Eiffel Tower website:
Location
Champs de Mars.
When to visit
From mid-June to beginnings of September: 9 am – midnight
Rest of the year: 9:30 am – 11:00 pm.
Easter weekend and Spring holidays: Open until 12 am.

Fares
Adults:
Stair entrance (access 2nd floor): 7€
Lift entrance (access 2nd floor): 11€
Lift entrance (access summit): 17€
Youth (ages 12 – 24):
Stair entrance (access 2nd floor): 5€
Lift entrance (access 2nd floor): 8,50€
Lift entrance (access summit): 14,50€
Children (ages 4 – 11):
Stair entrance (access 2nd floor): 3€
Lift entrance (access 2nd floor): 4€
Lift entrance (access summit): 8€

Transport
Metro: Trocadero, lines 6 and 9; Ecole militaire, line 8.
Bus: lines 42, 69, 72, 82 and 87.
RER: Champ de Mars – Tour Eiffel, line C.

Map
Related activities
LAST PLACES!

Admire Paris' most famous landmarks during a panoramic city bus tour, a one-hour scenic cruise along the Seine and skip the line access to the Eiffel Tower.

5 hours

101$